"We develop, plan and construct real estate for residential and commercial purposes.

Thereby, we think in generations."
About us
---
Areos Development GmbH is an owner-managed private company in the field of real estate development and building.
The portfolio ranges from real estate in the private residential sector to district development with 220 apartments. In this regard, we cover the full supply chain from the object selection and acquisition, a complete development of the project including the construction management up to marketing and sales of the property. Geographically, we focus on Vienna and its surroundings.
In additional companies of the corporation, we focus on real estate investment and the management of existing properties.
A reasoned approach, long-lasting experience in various disciplines of the real estate industry and decisive action characterise the sustainable value growth of our company and the economic success of our projects. Furthermore, we rely on environmental compatibility and the implementation of environmentally friendly technologies in both our projects and already existing properties.
Alexander Cwiertniowitz
Managing Director and Founding Partner of "areos"
In Real Estate since 2002 with emphasis on Residential Housing/Project Development
Technical University of Vienna, Master of Science in Real Estate Appraisal/Real Estate Management
Certified Project Developer
Markus Summer
Managing Director
15 years of experience in the field of construction management for residential and commercial properties
Technical Project Leader/Project Development and Project Management
Technical University of Vienna, Graduate Engineer (Dipl.-Ing.) in Civil Engineering
Stefanie Riegler
Aquisition & Sales, Project Development (on parental leave)
Vienna University of Economics, Bachelor of Science (BSc.) in Business, Economics and Social Sciences with emphasis on Sustainable Real Estate, Entrepeneurship an Innovation
Ella Molnar-Gabor
Sales & Project Development
Spatial planing with a focus on real estate and construction management at the Vienna University of Technology. Currently master student at the FH Burgenland in the field of real estate management and project development.
Daniela Knauer
Accounting/Finances
Final and diploma examination at a commercial academy
Nikolaus Ritter
Assistant Project Development
Final examination at high school
Three years experience in real estate business.
Our services
---
Following our guiding principle of WHERE VALUES GROW, we buy real estate and generate sustainable added value.
Starting with planning and construction of the real estate, we also take care of the following letting and sale. We coordinate the establishment of the necessary infrastructure and the acquisition of a construction site at non fully developed building grounds, as well as zoning issues or the renovation of apartment buildings.
As project manager and real estate developer we provide:
Selection and acquisition of suitable property/real estate
Project development (concept, market and location analysis, planning, construction permit) for residential and commercial real estate.
Establishment/new construction of residential and commercial real estate
Renovation/reconstruction of existing properties
Utilization of own properties to investors and owners
Property purchase
---
We have more than 20 years of experience in acquisition of real estate. Our transactions are carried out promptly and discreetly. Property vendors are provided with transparency, fairness and a proper notarial processing of the sales agreement.

What we purchase:
Development properties / Building sites in Vienna and Viennese surroundings (including non fully developed building sites and ones not ready for building yet, as well as building sites with other "issues")
Well situated office buildings in Vienna, that are free or broadly free of encumbrances

Original, unworked apartment buildings in Vienna (optionally Viennese surroundings)
Non-material share in land and apartment buildings in Vienna
Participation possibilities
---
Our continuous activity in the real estate market enables us access to promising real estate. For a profitable utilisation of selected projects we cooperate with investors and realise projects together. Opportunities and risks are pointed out in our project analysis.
Depending on investor requirements and project specifications, we offer various forms of participation.
Don't hesitate to drop us a message. We are looking forward to present you the current participation possibilities in a face-to-face meeting.
Projects / References
---
1160 Vienna, Roterdstraße // Wilhelminenstraße
Roterdstraße // Wilhelminenstraße
At the foot of Wilhelminenberg ( Roterdstraße 1A/ Wilhelminenstraße 96) 9 attractive privately financed apartments, inspired by a sculpture of the Basque artist Eduardo Chillada, will be constructed. Each of the exclusively furnished apartments between 59m² and 119m² offers an open space (balcony, garden or terrace), light-flooded rooms and a high degree of functionality. An underground garage offers parking space for 8 vehicles.
The location is characterised by a very good infrastructure, shops for daily needs are in immediate vicinity. The trams 2 and 10 as well as the bus lines 46A and 46B are within 1 minute walking distance.
PROJECT INFORMATION AT A GLANCE:
Address: Roterdstrasse 1A/ Wilhelminenstrasse 96, 1160 Vienna
Type: 10 privately financed owner-occupied or investment apartments and underground car park
Start of construction: Q3 2021
Completion: Autumn 2023
Realisation: sale in condominium ownership
STATUS: start of sales
If you are interested please contact one of our real-estate agents:
IMMOcontract
Ms. Tsvetilena Galabinova
+43 664 6000 8196
Further informations are available on the following website immocontract.at/projekt/luumin/.
ÖRAG
Mrs. Mag. Jelena Pirker
+43 664 8896 2196
News
---
2023
LUUMIN Project Now Insulated with Hemp!
25.07.2023
We are thrilled to announce that our latest development, located at Roterdstraße 1A in Vienna Ottakring, has been uniquely insulated using hemp as the primary facade material.
Why hemp?
Hemp stands as a natural and renewable resource. The locally sourced hemp ensures the highest ecological standards and offers excellent thermal insulation with optimal breathability. This decision reflects our unwavering commitment to realizing real estate projects that prioritize environmental and social sustainability.
Notable features of this exclusive project, comprising 9 luxurious apartments, include:
Utilization of a highly efficient heat pump system
Innovative component activation for both heating and cooling purposes
Integration of a cutting-edge photovoltaic system
Amenities like a fitness room and an infrared sauna for residents to enjoy
As the project progresses, we are pleased to inform you that 3 apartments are still available for interested buyers to secure their spot in this eco-conscious and socially responsible community.
LUUMIN Milestone Celebration
10.05.2023
On May 10, 2023, the construction firm Areos Beta GmbH celebrated a significant milestone together with the general contractor TIBUS BAU GmbH, and project management team areos Development GmbH, along with esteemed guests. During the event, Project Manager Markus Summer delivered a thoughtful speech, and afterwards, the guests were given a guided tour of the building's raw structure, showcasing the project meticulously planned by Büro Rüdiger Lainer & Partner. The celebration continued with a delightful gathering at the nearby traditional wine tavern "Sissi Huber," where everyone enjoyed good food and drinks, making it a memorable and enjoyable occasion.
2022
EU Taxonomy conformity for Project Perfektastraße 11
10.08.2022
The Austrian Sustainable Building Council (ÖGNI) confirmed the compliance with the EU Taxonomy for the project Perfektastraße 11, one of the first three residential buildings to achieve this recognition. For the project developed by Areos Development GmbH and ARE Austrian Real Estate GmbH, climate protection was specifically acknowledged as a significant contribution.
The EU Taxonomy encompasses the following environmental objectives: (1) climate change mitigation; (2) climate change adaptation; (3) sustainable use and protection of water and marine resources; (4) transition to a circular economy; (5) pollution prevention and control; and (6) protection and restoration of biodiversity and ecosystems.
This ecologically and socially sustainable construction project comprises an apartment building with 110 rental apartments and 2 commercial units. It was sold to a fund managed by Wealthcore Investment Management GmbH in 2021 and is currently managed by EKAZENT Management GmbH. This achievement marks a successful conclusion for the building, which was completed in June 2021 and received a DGNB Gold certification.
LUUMIN Residential Construction Project Breaks Ground
10.03.2022
The groundbreaking ceremony took place at the residential construction project "LUUMIN." Areos Development GmbH, the property developer, hosted the event in collaboration with the general contractor Tibus Bau and the architectural firm Rüdiger Lainer & Partner, along with other distinguished guests. The project, situated at Roterdstraße 1A, 1160 Vienna, aims to create a modern and sustainable living space, featuring nine beautifully illuminated condominiums.
2021
New owners are now moving into their apartments
The project partners ARE Austrian Real Estate (ARE) and AREOS Development have built the "Eschengarten" residential project in Vienna-Liesing. After less than two years of construction, the new owners are now moving into their apartments. According to the plans of Atelier Heiss ZT GmbH and Dietrich Untertrifaller Architekten ZT GmbH, 92 condominiums have been built in two houses around a community garden. The 1- to 5-room apartments from 35 to 118 m² are equipped with floor-to-ceiling wood-aluminum windows and are therefore bright and naturally exposed. Where it is necessary, external sun protection prevents overheating and uncomfortable sun glare. On their own loggia, balcony, terrace or in the small garden, residents can enjoy fresh air and a view of greenery. In addition to the two residential buildings with condominiums, ARE and AREOS have built two further buildings with a total of 145 rental apartments for investors. These apartments are also already finished and have been handed over to their owners.
2020
ÖGNI Gold for residential investment Perfektastraße 11 in Liesing!
Our technical project manager Markus Summer is justifiably pleased about the ÖGNI pre-certificate in gold. The ecologically and socially sustainable construction project is an apartment building with 110 rental apartments and 2 business premises. It is part of a neighbourhood development that is operated by Areos Development together with ARE Development.
Further information about ÖGNI (Austrian Society for Sustainable Real Estate Management) can be found at ➡️ https://fal.cn/37H5c
Sponsorship for ash tree "Am Himmel", near the Cobenzl in Vienna
Did you know that ash is the city tree of the future? It enjoys the sun, provides shade on warm days and can reach a height of up to 40 metres. No wonder, that the ash tree is regarded as the tree of life and energy, and that the "ash-born" are considered to be exceptionally resilient and highly productive.

In connection with our current residential construction project "Eschengarten" (https://lnkd.in/djcV44Z), which we are realizing together with ARE Development GmbH, we have therefore also adopted a SPONSORSHIP for an ash tree, which will soon blossom in full splendor at "Am Himmel", near the Viennese Cobenzl.

Here you can find more interesting facts about our ash tree as a tree of life ➡️ https://lnkd.in/dcEqwmy
Medical Centre/Group Practice Johnstraße 1150 Vienna
Electric BMW i3 for home buyers of MEXO
The homebuyers of our MEXO project at Engerthstrasse 187 in 1020 Vienna are provided with a brand new BMW i3 by the project construction partners AREOS and ARE Development for free use for a period of three years.
Users will be able to reserve the vehicle and put it into operation via a digital booking platform. Our aim is to offer the possibility of emission-free everyday trips.
2019
Areos wünscht schöne Weihnachten!
Der Verkaufsstart für den Eschengarten hat am 10.11.2019 bei der ERSTE Wohnmesse offiziell begonnen.
Unsere Makler Otto Immobilien und ÖRAG Immobilien verkaufen bereits erfolgreich. Insgesamt errichtet die Areos Development in Zusammenarbeit mit der ARE Development 92 Eigentumswohnungen, die auch als Vorsorgewohnungen geeignet sind.
Behilflich ist uns bei der Vermarktung auch eine Kooperation mit dem Falstaff Magazin, welches unserem Projekt schon einige Seiten gewidmet hat. Als weihnachtliches Geschenk freuen wir uns Ihnen eine Gratis-Ausgabe des Falstaff Living (Weihnachtsedition) durch eine Mail an abo@falstaff.com unter Angabe von Name, Adresse und Kennwort "Areos" zukommen lassen zu können.
Areos wünscht frohe Weihnachten, besinnliche Feiertage und einen guten Rutsch in das Jahr 2020.
Startschuss für den Eschengarten
Am 01.10.2019 wurde bei bestem Wetter der Spatenstich für das Wohnbauprojekt ESCHENGARTEN durch den Bezirksvorsteher von Liesing, Gerald Bischof, die Geschäftsführer der Areos, Reinhard Schmied und Alexander Cwiertniowitz, den Geschäftsführer der ARE, Hans-Peter Weiss, Heads of ARE Development Michaela Koban und Gerd Pichler sowie Geschäftsführer von Handler Bau, Michael Schranz gesetzt.
Die Bauarbeiten sollen etwa 20 Monate dauern, die Wohnungen können somit im Sommer 2021 bezogen werden. Der Verkauf der 92 Eigentumswohnungen beginnt im Herbst 2019. www.eschengarten.at
Fotos by: Markus Schieder, Visualisierung by JAMJAM Creative
Mach Platz für den Eschengarten!
Am 12.09.2019 feierte Areos gemeinsam mit seinem Projektpartner ARE Development und dem Abbruchunternehmen Prajo's Bau den Abbruch auf der Projektliegenschaft in der Stipcakgasse 6-8 und Perfektastraße 11 im 23. Bezirk.
Rund 50 Gäste, unter Ihnen projektbeteiligte Architekten, Konsulenten, Rechtsanwälte, Makler, Werbeagentur und Andere erfreuten sich an Spanferkel & Co.
Dank effizienter Abbrucharbeiten kann im Oktober 2019 mit der Bebauung der Liegenschaft begonnen werden. Neben einem Mietwohnhaus mit über 100 Wohnungen in der Perfektastraße werden 92 freifinanzierte Eigentumswohnungen im Bereich der Stipcakgasse errichtet.
Das Fest wurde veranstaltet von Areos Development GmbH, ARE Development GmbH und Prajo's Bau & Maschinenvermittlung GmbH.
Fotos by Markus Schieder Photography
Gleichenfeier für "MEXO"
Am 21.03.2019 feierte das Wohn- und Geschäftshaus Projekt "MEXO" in 1020 Wien, Engerthstraße 187 seine Dachgleiche. Im Mittelpunkt standen die Mannschaft des Generalunternehmers Strabag, dessen Sub-Unternehmer, die Architekten, Fachplaner und Bauherrenvertreter, u.a. repräsentiert durch Alfons Steiner von der ARE Development und Alexander Cwiertniowitz von der AREOS Development.
Der Bauherr, die "Engerthstraße 187 Errichtungsges.m.b.H.", eine Partnerschaft der ARE Development und der AREOS, kann bereits jetzt zufrieden auf den Verkauf aller 35 Wohnungen und 24 KFZ Tiefgaragenstellplätze blicken. Einen zusätzlichen Mehrwert schafft die im Erdgeschoß entstehende Lebensmittelfiliale der Hofer KG. Die Fertigstellung von "MEXO" ist im Frühsommer dieses Jahres geplant.
Foto (v.l.n.r.& o.T.):
Alexander Cwiertniowitz (AREOS), Margit Frömmel (ARE Development), Günther Reinisch (ARE Development), Herbert Vanzo (Strabag AG), Christian Heiss (Atelier Heiss Architekten), Michael Thomas (Atelier Heiss Architekten)
Weitere Informationen: www.mexo.at
Ansprechperson AREOS: Stefanie Riegler (riegler@areos.eu)
Areos ist seit 2019 Mitglied der "World Alliance for Efficient Solutions"
World Alliance For Efficient Solutions
Clean and profitable solutions to protect the environment
The World Alliance for Efficient Solutions, established by the Solar Impulse Foundation, brings together the main actors involved in developing, financing or promoting products, services, processes and technologies that protect the environment in a profitable way. To this end, we will assess the solutions submitted by our Members, with the help of independent technical and financial Experts, and select 1000 of the most promising ones. They will be labelled as Efficient Solutions and presented to governments, businesses and institutions to encourage them to adopt more ambitious environmental targets and energy policies. Website
Wir freuen uns, Mitglied dieser zukunftsweisenden Plattform zu sein.
2018
Areos und ARE feiern anlässlich erfolgter Einreichung des Projektes Eschenpark mit den Konsulenten
Am 15.10.2018 fand direkt am Projektareal zwischen Perfektastraße und Stipcakgasse ein geselliges Zusammensein statt.
Die Projektgemeinschaft aus Areos Development und ARE Development errichtet am Areal auf zwei Bauplätzen 192 Wohnungen.
Daneben wird im Auftrag von Elisabeth Radatz-Fiebinger auf einem weiteren Bauplatz eine Wohnhausanlage mit 35 Wohneinheiten errichtet.
Der Planungsstart erfolgte im Jänner 2018. Nachdem im Juli 2018 fristgerecht für alle drei Bauplätze gleichzeitig die Bauansuchen bei der MA 37 gestellt werden konnten, wurde mit den verantwortlichen Architekten und Konsulenten gefeiert.
Frau Radatz-Fiebinger stellte dankenswerterweise die köstliche Verpflegung aus dem Radatz Airstreamer, dem Würstelstand der besonderen Art zur Verfügung.
Unter den zahlreichen Gästen befanden sich die Architekten Christian Heiss und Severa Horner, Much Untertrifaller und sein Team sowie Repräsentanten der Konsulenten von KWI Engineers, Röhrer Bauphysik, Pairits ZT, Envotec, Fröhlich & Locher, Idealice, Delta, und Müller Partner Rechtsanwälte.
Die Bauherrschaft war durch Alois Aigner, Alfons Steiner, Andreas Barger und Katharina Haider seitens der ARE sowie durch Reinhard Schmied und Alexander Cwiertniowitz seitens der Areos vertreten.
Areos Development GmbH wird ÖGNI-Mitglied
Seit Juli 2018 ist die Areos Development GmbH Mitglied des ÖGNI, die Österreichische Gesellschaft für Nachhaltige Immobilienwirtschaft.
Die ÖGNI zertifiziert nachhaltige Gebäude und Stadtquartiere nach den europäischen Qualitätszertifikaten DGNB und >>blueCARD (für Bestandsgebäude).
Die Areos Development GmbH wird intensiv mit der ÖGNI zusammenarbeiten und zukünftige Projekte werden gemeinsam für eine bessere ökologische Zukunft vorbereitet.
Weitere Informationen finden Sie unter www.ogni.at.
Mit Solarkraft rund um die Welt
Wien, am 23.04.2018. Mit einem packenden Vortrag brachte der Pionier und Explorer Bertrand Piccard mehr als hundert Gäste des Wiener Immobilienentwicklers areos Development GmbH zum Staunen.
Mit großer Leidenschaft berichtete Piccard von seinem Flug mit dem Solarflieger Solar Impulse rund um die Welt. Er vermittelte das Konzept einer besseren Welt durch ökologische Investitionen, die gewinnbringend für Wirtschaft und Gesellschaft sind. Er appellierte, wichtige Veränderungen zu ermöglichen. Es sei notwendig, die "Bremser" der "Old-Economy" zu bewegen, eine Weiterentwicklung zu fördern. Ein nahezu nicht endender Applaus bewies, dass Piccard mit seinen Ideen und Vorhaben der Stiftung Solar Impulse einen Weg geht, der stark von der Gesellschaft unterstützt wird. Bertrand Picccard hat einen weiteren Auftritt zum Thema "Climate Change" am 15. Mai in Wien, beim R20 Austrian World Summit des Austroamerikaners Arnold Schwarzenegger.
Durch die Stiftung www.solarimpulse.com werden Lösungen geboten, um die "alte Welt" zu Veränderungen zu bringen, welche die "neue Welt" schon längst erwartet. Unter den Gästen gesichtet wurden: Manfred Ton, Peter Vcelouch, Matthias Nödl und Mark Krenn, CHSH, Fritz Kittel, EGW Heimstätte Bauträger, Christian Heiss, Atelier Heiss Architekten, Günther Reinisch, ARE Development, Willy Rader und Christiane Weissenborn, Lenikus Hotel, Martina Pagitz und Elke Landstetter, BTV Bank, Bernd Schmied, ULSR Rechtsanwälte, Gerhild Bensch-König, Raiffeisen Wohnbau, Martina Coufal und Claus Widder, Hypo Tirol Bank, Investor Rudolf Maschina, Georg Fichtinger, CBRE, und viele mehr.
Matthias Nödl, Mark Krenn, Alexander Cwiertniowitz, Peter Vcelouch, Bertrand Piccard, Fritz Kittel, Reinhard Schmied, Christian Heiss, Manfred Ton (v. l.) – Bild (c) Luef light
Jobs
---
Our employees form the foundation of our company. We are looking for creative minds with ideas, who will work with us on developing forward-looking living and working spaces. We offer a creative workplace that allows you to grow with us. Expect clear structures, short decision-making processes and exciting challenges.
Interested in becoming part of our team? You work independently and professionally? Then send us your detailed application to cwiertniowitz@areos.eu or summer@areos.eu and convince us of your qualities.
Contact
---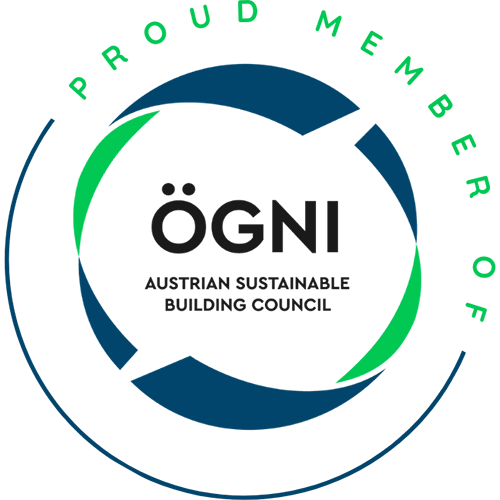 areos Development GmbH
Neutorgasse 12/14, 1010 Vienna
+43 1 879 29 92
development@areos.eu